Shinagawa - A new MICE site for international exchange with superb access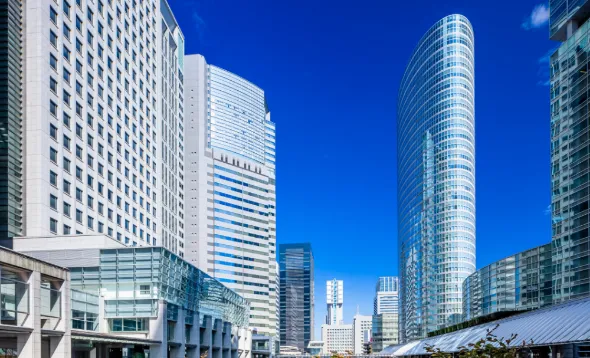 Tokyo's Shinagawa area is transforming.
A massive development project is in progress in the area around the Takanawa Gateway Station, which opened on March 14, 2020, creating a new international business center.
The four new buildings will contain a convention hall with a capacity of 4,000 people (total floor area of roughly 8,000 sqm, with the largest room measuring 1,800sqm), a conference facility that accommodates 2,000 people (total floor area of roughly 5,000sqm), a multipurpose hall, lodging facilities, and more.
The Shinagawa area has office spaces, luxury hotels, and commercial facilities. Its medical facilities, international schools, and residences are world-class, and two new large halls will make it even more open and welcoming to the world.
In addition to the Takanawa Gateway Station development work, the Shinagawa area already has six of Japan's largest hotels, with over 7,000 guest rooms, meeting facilities and more. These include Grand Prince Hotel Shin Takanawa, which combines one of Japan's largest convention halls with lodging accommodations, and Shinagawa Prince Hotel, which has entertainment facilities such as an aquarium, movie theater, and live music venue. With the completion of development around Takanawa Gateway Station, Shinagawa will become one of the world's largest MICE (meetings, incentives, conferences, and exhibitions) event sites, capable of hosting events with up to 18,000 participants.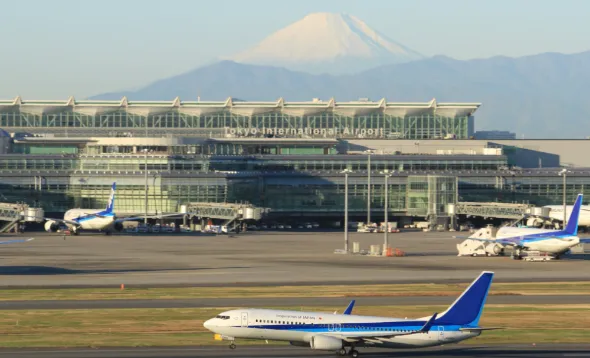 Extraordinarily convenient travel connection hub
Another of Shinagawa's key qualities is its location. Shinagawa Station was Japan's first rail station, and it is now a Shinkansen bullet train stop. Getting from Haneda Airport to Shinagawa Station takes a mere 11 minutes. Visitors can transfer to the Shinkansen bullet train to travel to western Japanese cities such as Nagoya, Kyoto, Osaka, and Hiroshima. Shinagawa will also be the first station on the Chuo Shinkansen, a Maglev train that will begin providing service in 2027, connecting Shinagawa and Nagoya in just 40 minutes. This will cut travel time roughly in half. The Maglev train line is planned to extend to Osaka, the largest city in western Japan, by 2045. Shinagawa will become a gateway smoothly connecting the world with Tokyo and the rest of Japan.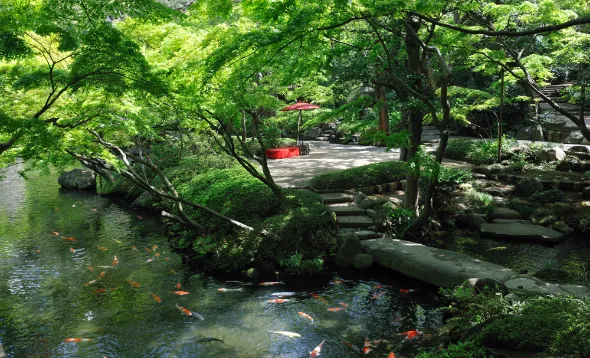 Shinagawa - Going beyond the modern
While Shinagawa has some of the world's most advanced technologies, it also has many must-see sights for travelers who wish to experience traditional Japan. Shinagawa isn't exclusively focused on new buildings and future vistas. It is also home to many historical temples and shrines, such as Zojoji Temple, Sengakuji Temple, and Shinagawa Shrine.
The Happo-en Garden and Grand Prince Hotel Takanawa are MICE facilities with classical Japanese gardens, and visitors can enjoy experiencing authentic Japanese culture through tea ceremonies, sake-tasting sessions, ninja shows, traditional dance, and more. The Japanese garden of Grand Prince Hotel Takanawa and The Prince Sakura Tower Tokyo is decorated with stone lanterns and a bell tower. With their 210 cherry blossom trees, spanning 17 different varieties, they provide opportunities for visitors to discover the essence of Japan.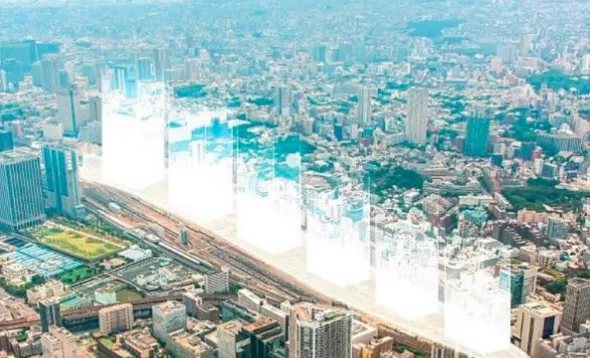 The bright future of Shinagawa, gateway to Japan
The international business center plan for the Shinagawa area is a revolutionary one. It provides both individual visitors and groups with a state-of-the-art environment truly unique to Shinagawa. Shinagawa isn't just one of the world's finest MICE sites, it is a safe and exciting environment focused on the future of our planet and all of humanity. It will bring people together, generate ideas and become a center for business networking and the creation of new culture.