Hamamatsucho, Takeshiba and Shibaura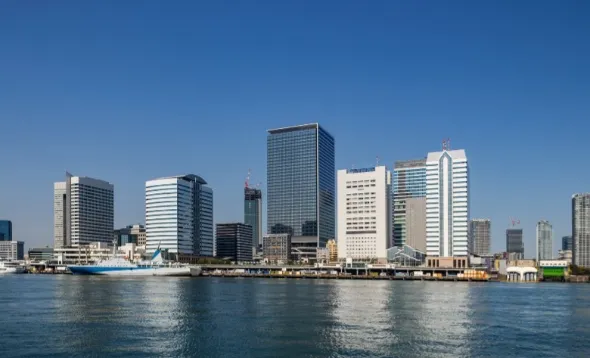 The combined areas of Hamamatsucho, Takeshiba and Shibaura make up one of Tokyo's most diverse and exciting areas, with a variety of convention facilities, accommodation providers and venues available both now and planned as part of future investment.
In particular, they are the perfect locations for meetings and events in hi-tech and cyber based industries such as emerging digital and energy markets, wishing to align their events with one of the most advanced city areas in the world. The area boasts extensive waterfront locations, historical landmarks and attractions as well as excellent access and transport infrastructure.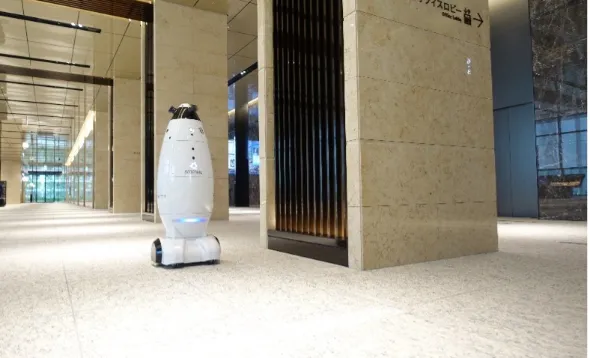 Security Robot working at TOKYO PORTCITY TAKESHIBA
Smart City and ongoing development
As part of the Tokyo Metropolitan Government's policy to develop world leading urban areas, Takeshiba was selected in 2020 to sit at the forefront of the Smart TOKYO project. Takeshiba will act as a proving ground and model for other districts to follow in years to come. From smart buildings streaming data from thousands of sensors, to real time updates available on screens across the area – as well as via mobile devices – workers, residents and city officials remain constantly connected creating an environment like no other on earth.
The significant investment in this project means the area is also being developed for international business events, including the creation of convention facilities supported by significant accommodation providers. This work is expected to continue through to 2031, benefiting not just Takeshiba but also Hamamatsucho, and Shibaura which will see a strategic government backed redevelopment programme over the coming years.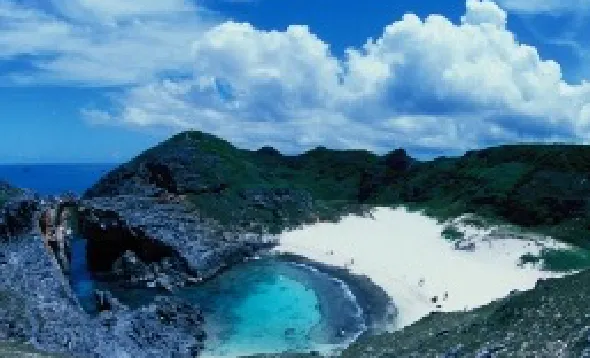 Ogasawara islands(Minamijima)
Superb Connections
Based near and around the waterfront, Hamamatsucho, Takeshiba and Shibaura are extremely well connected, making them particularly popular for international delegates and event attendees. This includes high speed links to Haneda Airport in less that 20 minutes via the monorail. They also benefit from their links and proximity to famous Tokyo Islands such as the UNESCO World Natural Heritage Site of Ogasawara.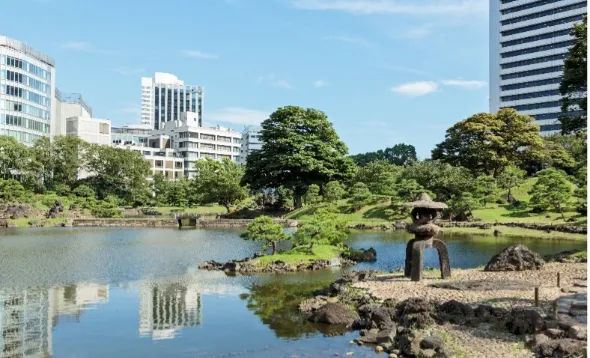 Kyu-Shibarikyu Garden 🄫Tokyo Metropolitan Park Association
Hamamatsucho
More specifically, Hamamatsucho is a key transport hub, balanced by a wealth of historical and cultural options, providing leisure time solutions for delegates. One example is the Kyū Shiba Rikyū Garden, which is one of the few surviving Edo-period feudal lords' gardens in Tokyo. It is considered by many to be the most beautifully designed garden in the whole of the Japanese capital and dates back as far as 1655. Nearby is the Zojo-ji Temple, which boasts one of the oldest wooden structures in Tokyo (1622). The temple is juxtaposed by the world famous orange and white Tokyo Tower, Japan's second tallest structure (333m).
WATERS takeshiba
Takeshiba
As a waterfront transport hub and shipping centre between the Tokyo islands, Takeshiba offers true variety in terms of cuisine, entertainment and commercial opportunities. WATERS Takeshiba is one of Tokyo's most impressive shopping malls, offering an opportunity for delegates to shop; whilst a wide variety of international and domestic cuisines are available through the areas many restaurants. Entertainment is available via a number of different options – notably the Shiki Theatre, which is owned by one of Japan's most famous theatre companies. As the focus for Tokyo's Smart City initiative, Takeshiba is seeing unprecedented transformation and growth that has to be seen to be believed.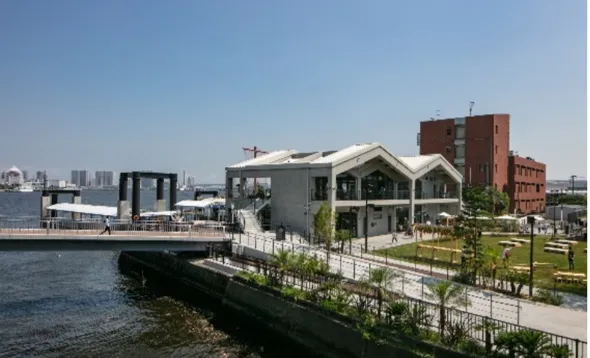 TOKYO HiNODE PiER(Hi-NODE)
Shibaura
As next generation energy continues to grow across both Japan and the rest of the world, Shibaura has used its own waterfront location to further its commercial development, attracting a wealth of the companies to the area. This significant growth and its proximity to the Tokyo Pier and Bay, means the area provides a vibrant nightlife for delegates considering after conference excursions, hospitality and entertainment.
Finally…
As fast-growing areas focused on the latest technology, supported by significant investment, Takeshiba, Hamamatsucho and Shibaura are ideal for events from the cutting edge of technology sectors. This includes AI, connectivity, big data and smart tech. Media and creative industries will also find themselves at home in these areas, which provide a wealth of hotels and event venues such as the mesm TOKYO, the Hotel Intercontinental Tokyo Bay and the The Tokyo Metropolitan Industrial Trade Center Hamamatsucho-kan. Each of these areas is a delight in its own way - when combined, their offering is not just world beating but truly cutting edge.