Hamamatsucho, Takeshiba and Shibaura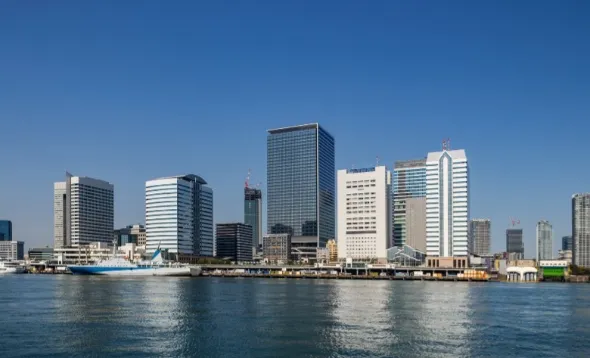 The area that encompasses Hamamatsu-cho, Takeshiba, and Shibaura is one of Tokyo's most diverse and exciting areas. It has various convention facilities, accommodations and banquet halls, and there are plans to build even more facilities in the future.
In particular, it is expected to become a digital content company hub and a center for activities aimed at invigorating the energy industry, so it is an optimal site for business events related to high-tech industries and energy. The area also has a massive space for those who love the water, historical buildings and sightseeing points, and transportation infrastructure that provides excellent land, sea, and air access.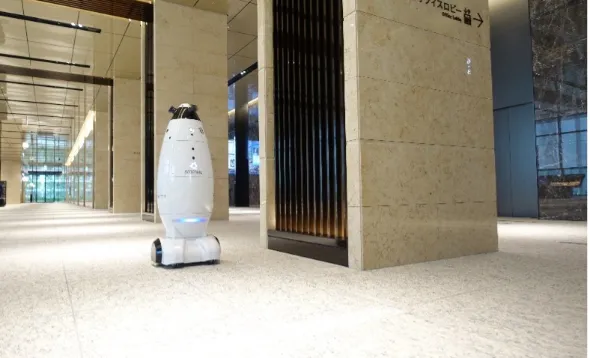 Security robot operating in the Tokyo Portcity Takeshiba Building
The smart city and ongoing development
As part of the "Smart Tokyo" initiatives being implemented by the city to leverage Tokyo's full potential using the power of digital technology, Takeshiba was selected in 2020 as a model "Smart Tokyo" area. Over the next few years, Takeshiba will stream data from sensors throughout the area to display real-time information on screens installed in the area, along with mobile devices. It will connect the area's government, companies, and residents to create a unique environment unlike any other.
This invaluable project is constructing new accommodations and convention facilities, creating an environment optimally suited for international business events. Development in the area is expected to continue until roughly 2031. It won't be limited to Takeshiba but will also extend to Hamamatsu-cho and Shibaura, where a strategic government-sponsored redevelopment program is underway.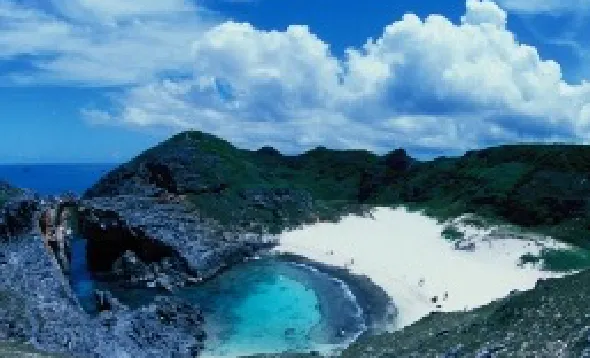 Ogasawara islands(Minamijima)
Excellent access
The waterfront Hamamatsu-cho, Takeshiba, and Shibaura areas offer excellent transportation access, and are praised by overseas guests and event participants. Haneda Airport can be reached from Hamamatsu-cho Station in less than 20 minutes via the monorail. Another of the area's strengths is its access to Tokyo's islands, such as the famous Ogasawara Islands, designated as a UNESCO World Natural Heritage site.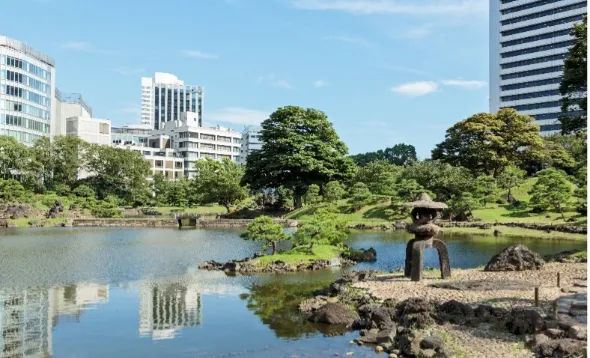 Kyu-Shibarikyu Garden 🄫Tokyo Metropolitan Park Association
Hamamatsucho
Hamamatsu-cho is not only a key transportation hub, but it is also filled with historical and cultural sites, so event participants will find plenty to do in their spare time.
An example is the Kyu Shiba Rikyu Gardens, created in 1655. This site is one of Tokyo's few remaining examples of a garden owned by Edo-era feudal lords. Nearby is the Zojoji Temple (built in 1622), one of Japan's oldest wooden buildings. Next to Zojoji Temple is the 333-meter-tall Tokyo Tower, Japan's second tallest building structure.
WATERS takeshiba
Takeshiba
Takeshiba is also a transportation hub for traveling to and from Tokyo's islands by sea. It offers diverse gourmet, entertainment, and business opportunities. WATERS takeshiba is one of Tokyo's most distinctive malls, where event participants can enjoy shopping. At its varied restaurants, diners can enjoy both Japanese and international cuisine. It also has a rich selection of entertainment opportunities, such as a Shiki Theatre, which puts on shows by the Shiki Theatre Company, Japan's most famous theatrical group. As the center of Tokyo's Smart City framework, Takeshiba is undergoing unprecedented transformation and dizzying growth.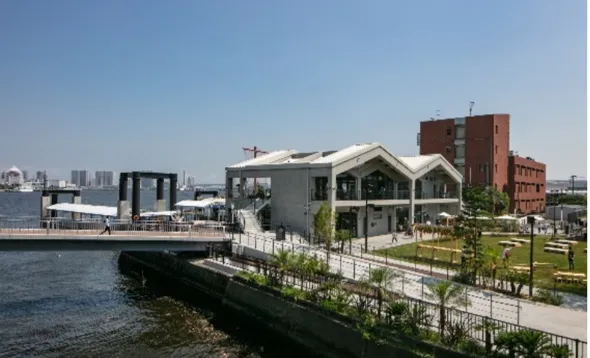 TOKYO HiNODE PiER(Hi-NODE)
Shibaura
With the growth of next-generation energy in Japan and around the world, Shibaura has taken advantage of its waterfront area location to spur commercial development and attract more companies to the area. Alongside significant growth and close proximity to Tokyo Bay and the docks, Shibaura offers a vibrant nightlife for participants considering post-conference excursions, hospitality experiences, and entertainment.
In closing
The Takeshiba, Hamamatsu-cho, and Shibaura areas are growing rapidly, driven by the latest technologies. Together, they are the perfect location for events in pioneering technical fields like AI, big data, and smart technology. SHIBA, Tokyo Bay is also highly amenable to the media and creative industries. There are many hotels and event venues, such as the InterContinental Tokyo Bay Hotel, mesm TOKYO Autograph Collection, and the Tokyo Metropolitan Industrial Trade Center Hamamatsucho-Kan. Each of the SHIBA, Tokyo Bay's areas has its own appeal and can be combined to hold pioneering events without comparison.