Marunouchi - An area that continues to flourish as
an economic and cultural center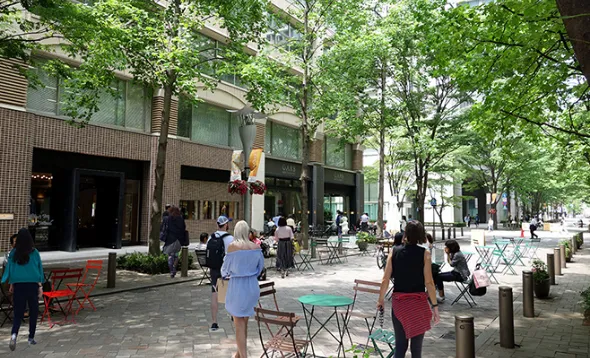 Otemachi Naka-Dori Street
The Marunouchi area isn't just a cultural center, but also a hub of industry and commerce. It is recognized as one of Tokyo's top-class areas for conferences and events.Over the past few decades, companies from Japan and abroad have opened head offices in Marunouchi, transforming the area into the heart of the Japanese economy. Large-scale international businesses have created a demand for the latest conference facilities, and Marunouchi has risen to meet that demand. Event organizers can rest assured that they will be able to provide event attendees with unique and memorable experiences if they hold their events in Marunouchi. Numerous hotels, distinctive event sites, and world-class resources are concentrated right in the heart of the city.
Marunouchi is situated between the Imperial Palace, Ginza, and Tokyo Station, making it one of the most accessible locations in Japan. Participants in international conferences can arrive at Haneda or Narita (Tokyo's two major airports) and reach this city center in just 30 to 60 minutes. Those traveling by train will truly feel that they have arrived in the heart of Tokyo. Japan's public transportation system is often praised as the finest in the world, and Marunouchi is a perfect location, quickly and conveniently reached from anywhere in Japan.
Marunouchi is home to many unique venues. Its expansive public spaces catch visitors' eyes and are popular with event planners. Particularly popular are streets that can be closed off to traffic and the spacious gardens around the Imperial Palace. Typical events in Marunouchi are held in conjunction with several nearby venues. This makes it possible to accommodate large groups and also provide conference participants staying in Tokyo with an exciting city experience.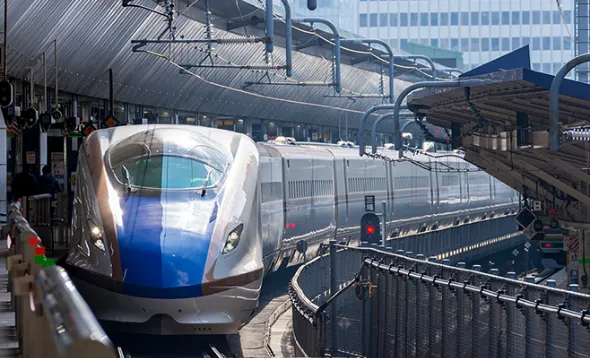 Shinkansen bullet trains (Tokyo Station)
Marunouchi is home to countless interesting venues, and new and innovative ways are constantly being developed to make the most of these venues. Let's look at an example of the possibilities Marunouchi presents.
For organizers who seek modern facilities, the Tokyo International Forum (TIF) is just the thing. The TIF, visited by 20 million people annually, has an open plaza space and a distinctive, soaring glass atrium. There are countless shops and restaurants, along with many other attractions such as an art museum. The TIF is one of Japan's largest conference centers, with 8 halls and 34 conference rooms. It hosts 5,000 events a year.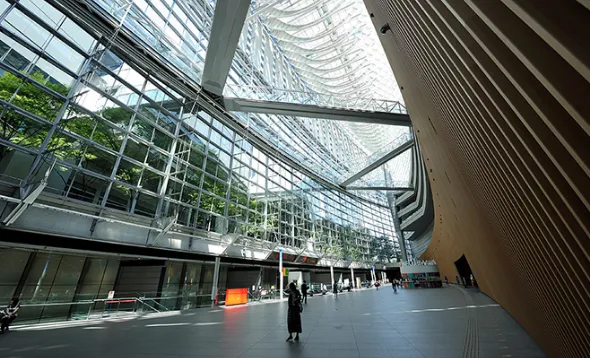 Tokyo International Forum (TIF)
Marunouchi Bon-Odori, one of Tokyo's largest summer festivals, is held on Gyoko-Dori Street, near Tokyo Station. Festivals rooted in traditional Japanese performing arts and culture, such as bon-odori dances, are attended by 20,000 to 40,000 people a year, and both locals and visitors enjoy the festivals together. When the business day ends, people come out of the offices in the Marunouchi area and join in the dancing. People can try different snacks from the food stalls while they look at performances and artistic displays. The festival takes advantage of this practical yet special location, making it a perfect way to immerse oneself in authentic Japanese culture.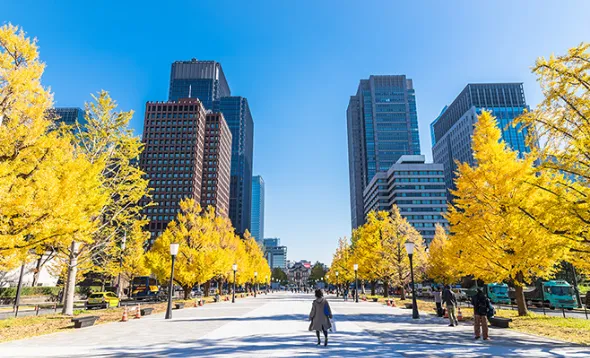 Gyoko-Dori Street
Luxury and tradition fuse in Marunouchi, making it the ideal location for event organizers. The area's many highly refined facilities are an excellent draw for business events, and several iconic and historical venues can be found nearby. Diverse facilities can be woven into event schedules, providing conference attendees with even greater enjoyment through the element of surprise. Likewise, many gardens and public spaces allow attendees to relax and unwind.
Marunouchi is the perfect location for event organizers who want to provide their business event participants with memorable experiences while giving them a window into authentic Japanese culture.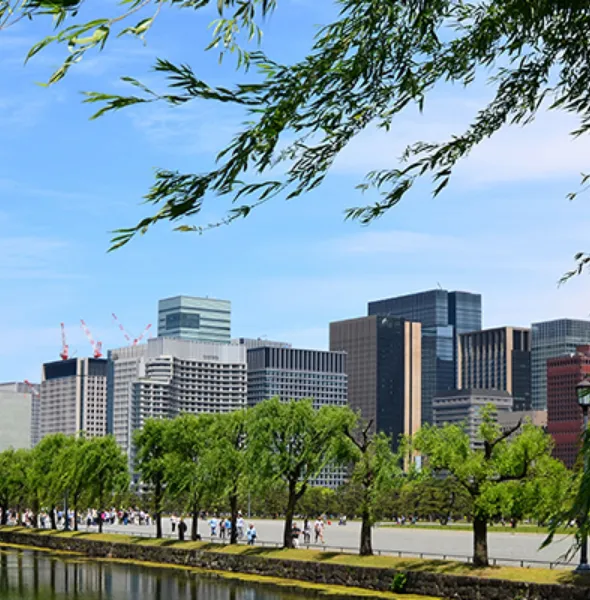 Otemachi Building (from the Imperial Palace)